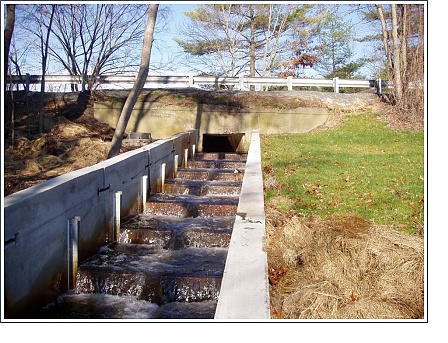 In the first comers period of the early 1600s, Squanto, a Pautuxet Indian from the Plymouth Area, [1] is reported to have taught the Pilgrims how to plant corn in mounds fertilized with herring. Use of fish sustained native peoples and the Pilgrims. "Mattakeeset", meaning "place of many fish," is a Native American name still used in Duxbury." [2]
Land ownership at Island Creek was established with land grants in the early 17th century. The Town regulated the Island Creek herring run at the town meeting in 1693, "…that if the fisher men of Duxbury, shall clear Island Creek brook tat said men shall have liverty then to get herring for bait from time to time without moletstation; and to that end the town do agree, that if any, either English or Indian, do hinder tem herein, by makin of weirs, or hindering the fish from coming to the Pond or going down, they shall thereby forfit five shillings for every time they do so…"[3] The town meeting of 1702 shows "the town have given liberty to Ens. Seabury to make a dam upon Island Creek Pond brook, provided that he leaves a sufficient and free passage for the herrings up, and down, and also makes a sufficient cart way over the brook." This is the historic fish run which needs to be restored.
With access to the Bay, farm land and the Creek's herring run, the area had the resources to support a village. The name Island Creek eventually referred to a village with its "own school, post office, railroad station and social center, Island Creek Hall." [4] The growth in fishing in the early 18th century led Duxbury men to build ships or fish the grand banks. Island Creek provided herring as bait and sufficient deep water, and the area become important to ship building in the late 18th century.
The shipping and ship building industry defined much of what we see today in Duxbury. In time, transportation and the economy changed, and the community turned away from the Bay and Island Creek. The herring run fell into disrepair until the 1940s when the present fish ladder was constructed. In recent history efforts have begun to restore these fish runs.
View the Island Creek Fish Ladder Video courtesy of the Duxbury Clipper.